What better to get you through a hump day than a little mini-rant? Today I am linking up with
Staci
,
Sara
, and
Katelyn
for my first Wednesday of "Sorry I'm not sorry"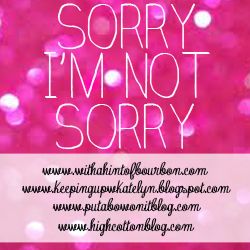 ..that I am basically obsessed with my dog. I talk about her way too much. I take an obscene amount of pictures of her. I talk to her like she's a person. Let's face it, she's a lot cuter, smarter, and more enjoyable to be around than most humans..
..that I cook my favorite pasta dish at LEAST once a week. It's quick, easy, and totally to die for. My coworkers make fun of me because of how often I eat it. They obviously have never tasted the nectar of the gods that it is.. my lunch is better than your lunch. Boom!
.. that I have road rage. I am a force to be reckoned with on the highway. Drive or die!!
..that I I despise Basketball. I think is more interesting to watch curling competitions than stupid basketball. I am sure it is a sport that does take lots of talent (and God-given height), but I think most of it's players are barbarians.
..that I think some of these people are way too young and immature to be engaged, much less married. that being said, some of these people should not be allowed to procreate. Everytime I see some of these people change their relationship status or that they're preggo I'm like..
..that I think Taylor Swift sounds like a goat in heat. or maybe a dying cat.. either way, she's baaaaad!! (See what I did there?)
..that I my week revolves around Trivia night. It's always so much fun, and who doesn't love putting to use the useless knowledge they have floating around up there. Plus, my friends are freaking bad ass, and I love them.
..that I may be trading in my tomahawk for a pair of red sox this upcoming season. I love me some David Ross, and think that he should be the Braves starting catcher any day of the week over McCann.

..that I will never get off my soap box when it comes to leggings. THEY ARE NOT PANTS! for crying out loud! and nobody wants to see the cottage cheese you have going on on your back side.

..that I think my neighbor's baby looks like a gremlin.