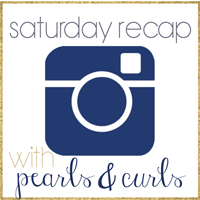 I am usually pretty low key when it comes to IG. For once, I posted quite a few pictures this week and I have enough to justify a post full of them.
Road Trip Ready
He's kinda cute.
These are some of the best friends a girl could ask for. Celebrating Tyler and Amanda's engagement.
Low Country Boil at the wedding shower
Tyler got a hooter's calendar as a wedding gift. The girls got more enjoyment out of it than he or the other guys. Here is the scratch 'n sniff portion of the calendar.
As of May 14th, I will have been with my wonderful company for 1 whole year. As an anniversary present, they gave me Buckhead Life Dining Card! Oh My Lanta there's going to be some good, fancy eating going on.
Crafting up some decore for the Kieninger wedding coming up this weekend.
Today while I was running through the car wash, it stopped working. yikes!
I'm back in my hometown for the day. This is a fond memory of my younger days. This guy was a regular at the restaurant I was a server at in high school. His name was Steve -- Jesus Steve, if you will. We swore he was homeless, because he always smelled and was just plain weird. He would come in, and just drink amber bock drafts every single night. Once he brought a guitar and played music that sounded like a cat giving birth without asking while the entire restaurant was packed. He was asked to leave and never came back.
I started cleaning out some of my old things at my parents house, and found this gem. A sweet friend gave me this for my birthday in 4th grade.
I also found this little diddy in my old cd collection from back in the day. It's crazy to think I will be making my childhood dreams come true Friday night when I go see them in concert at the Fox Theatre.